Hid­den in the Gospel: Truths You For­get to Tell Your­self Every Day
128 Pages | $12.99 | Paper­back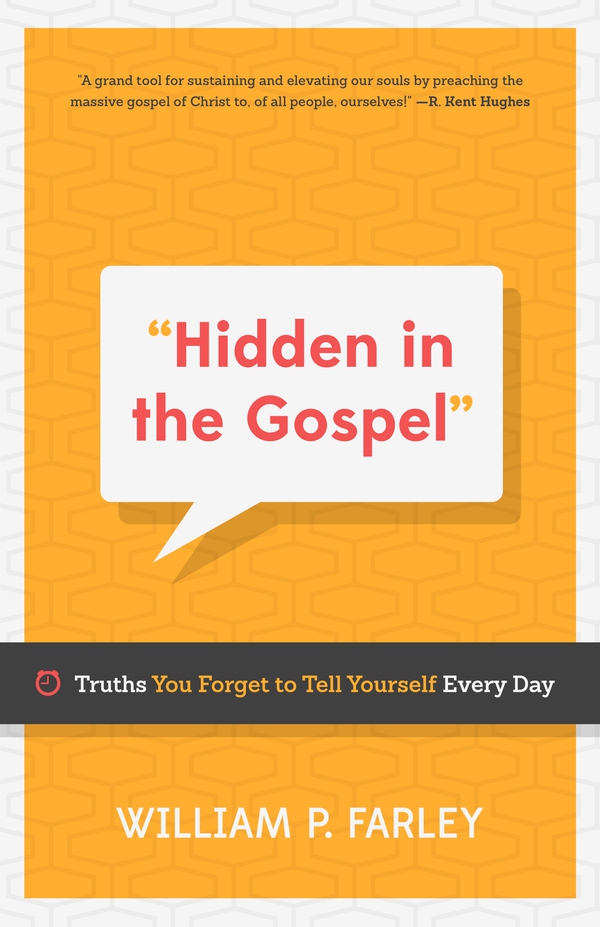 Sum­mary: We live with our own thoughts 24/7. Often we are car­ried along by sin­ful think­ing instead of inten­tion­ally speak­ing truth to our­selves. How can we start chang­ing this? How can we live lives that are influ­enced by the gospel moment by moment?
William Far­ley argues that mature Chris­tians solve many spir­i­tual prob­lems in their lives by preach­ing the gospel to them­selves. The gospel is not one event but a story that began before time and stretches into eter­nity. Key moments in this story—such as Jesus' incar­na­tion, death, res­ur­rec­tion, and ascension—teach us lessons that can be applied to life every sin­gle day. In this user-friendly book, Far­ley shows us how.
About the Author:
William P. Far­ley is the senior pas­tor of Grace Chris­t­ian Fel­low­ship, a non­de­nom­i­na­tional evan­gel­i­cal church in Spokane, Wash­ing­ton. This award-winning author's writ­ing expe­ri­ence is exten­sive and diver­si­fied. He has pub­lished arti­cles in Dis­ci­ple­ship Jour­nal, Enrich­ment Jour­nal, and Focus on the Fam­ily Mag­a­zine. Bill and his wife, Judy, live in Spokane, Wash­ing­ton. Other books he has writ­ten include: Gospel-Powered Par­ent­ing: How the Gospel Shapes and Trans­forms Par­ent­ing, Gospel-Powered Humil­ity, and Out­ra­geous Mercy: Redis­cov­er­ing the Rad­i­cal Nature of the Cross.
What Others Say About this Book:
"Pas­tors would have to engage in very lit­tle coun­sel­ing if Chris­tians would pri­or­i­tize what Bill Far­ley exhorts his read­ers to do. . . . [and this] would trans­form the lives of Chris­tians, their homes, and their churches." —Don Whit­ney, The South­ern Bap­tist The­o­log­i­cal Sem­i­nary, Louisville, Kentucky
"This small gem of a book pro­vides a joy­ous gospel feast that begins with our elec­tion in Christ before the foun­da­tion of the world and ends with Christ's new cre­ation. No small thoughts here! This is the recipe for big, expansive, and ever-expanding hearts." —R. Kent Hughes, Col­lege Church, Wheaton, Illinois
_________________________________________________________________________________
Our mis­sion is to serve Christ and his church by pro­duc­ing clear, engag­ing, fresh, and insight­ful appli­ca­tions of Reformed theology.

 
_________________________________________________________________________________