240 pages | $14.99 | Paper­back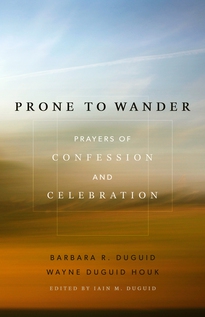 Sum­mary: "We have left undone those things which we ought to have done; and we have done those things which we ought not to have done." But what are "those things"? Why do we con­fess them?
The pur­pose of con­fess­ing our sins is not sim­ply to remind us what great sin­ners we are, but rather to point us to the great Sav­ior we have. Inspired by the Puri­tan clas­sic The Val­ley of Vision, this book pro­vides spe­cific prayers of con­fes­sion in response to par­tic­u­lar Scrip­ture pas­sages. They are ideal for use in church or in per­sonal devotions.
These prayers thank God for Jesus' per­fect right­eous­ness and sub­sti­tu­tion­ary atone­ment for our sins and ask for the help of the Spirit in pur­su­ing holi­ness. They close with a scrip­tural assur­ance of par­don in Christ for the sins of God's peo­ple. Appen­dices include the hymns ref­er­enced in each prayer, as well as the ser­mon texts that accom­pa­nied these con­fes­sions as they were orig­i­nally used in wor­ship services.
About the Authors:
Bar­bara R. Duguid is a coun­selor and min­istry assis­tant at Christ Pres­by­ter­ian Church (ARP) in Grove City, Penn­syl­va­nia, where she crafts the weekly liturgy. She is a pastor's wife and the mother of six chil­dren, and she holds an advanced cer­tifi­cate in bib­li­cal coun­sel­ing from the Chris­t­ian Coun­sel­ing and Edu­ca­tional Foun­da­tion in Glen­side, Pennsylvania.
Wayne Duguid Houk is the events direc­tor and con­fer­ence plan­ner at Chris­t­ian Coun­sel­ing and Edu­ca­tional Foun­da­tion in Glen­side, Pennsylvania.
Iain M. Duguid is pro­fes­sor of Old Tes­ta­ment at West­min­ster The­o­log­i­cal Sem­i­nary, Philadel­phia. He has writ­ten numer­ous works of bib­li­cal expo­si­tion, includ­ing Esther & Ruth and Daniel in the Reformed Expos­i­tory Com­men­tary series, Ezekiel in the NIV Appli­ca­tion Com­men­tary series, and Num­bers in the Preach­ing the Word series.
What Others Say About This Book:
"

I find it eas­ier to learn about God than to talk to him. These devo­tion­als and prayers assist me in doing both, with the added ben­e­fit that they inspire me to pray those prayers with others."
— Edward T. Welch, Fac­ulty Mem­ber, Chris­t­ian Coun­sel­ing and Edu­ca­tional Foundation
"

Duguid and Houk show how the heart long­ing for rec­on­cil­i­a­tion with God can find peace and beauty in bib­li­cal con­fes­sion. . . . help[ing] us to face the bit­ter to taste the sweet."
—Bryan Chapell, Senior Pas­tor, Grace Pres­by­ter­ian Church
"

This book has many virtues. One is its flex­i­bil­ity in being adapt­able to a range of sit­u­a­tions, includ­ing pub­lic wor­ship and pri­vate devo­tions. . . . I love its over­all aims and method."
—Leland Ryken, Pro­fes­sor of Eng­lish, Wheaton College