John (2 Vol­ume Set) by Richard D. Phillips
1,488 Pages | $59.99 | Case­bound | Series: Reformed Expos­i­tory Commentary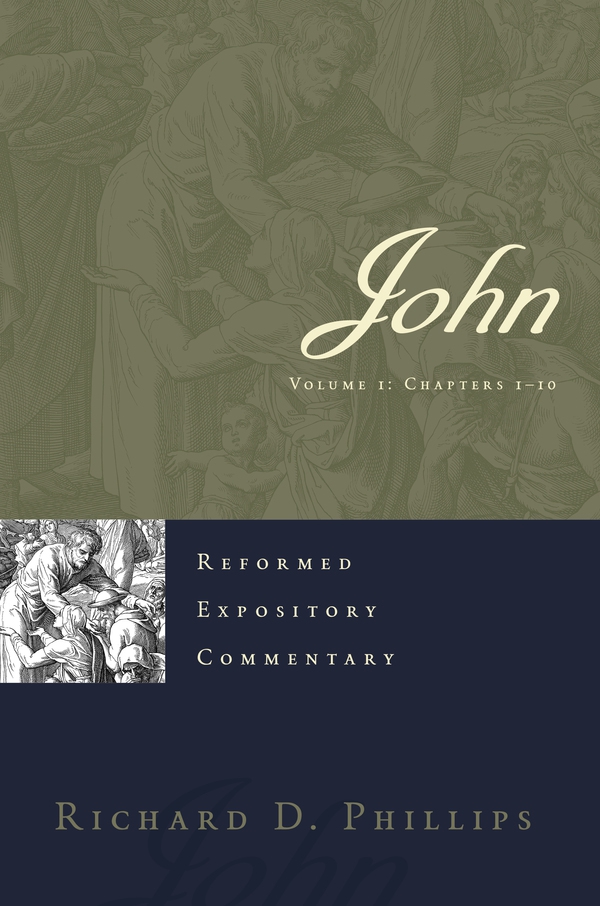 Sum­mary: Prac­ti­cal, devo­tional, and expo­si­tional, these two vol­umes exam­ine the apos­tle John's focus on sal­va­tion through faith in Jesus, Christ's deity, and the church's wit­ness. Use­ful for pas­tors or group leaders.
Series Edi­tors: Richard D. Phillips & Philip Gra­ham Ryken

Tes­ta­ment Edi­tors: Iain M. Duguid, Old Tes­ta­ment & Daniel Dori­ani, New Testament
What Others Are Saying About this Book:
"Richard Phillips' expo­si­tion of John explains the text clearly, but it also sings, mar­vels, and gets its hands dirty in real life illus­tra­tions. What a ter­rific com­bi­na­tion of bib­li­cal exe­ge­sis, doc­trine rooted in the Ref­or­ma­tion, and prac­ti­cal appli­ca­tion! This is a great ser­mon com­men­tary for pas­tors and an extremely help­ful book for all other Chris­tians who desire to grow in their love for the one who said, 'I am the way, the truth, and the life.'"
- Joel R. Beeke, Pres­i­dent, Puri­tan Reformed The­o­log­i­cal Sem­i­nary, Grand Rapids, Michigan
"Rick Phillips' two vol­umes will become con­stant friends and 'go-to' com­pan­ions for those charged with the daunt­ing task of preach­ing the depths of the fourth Gospel. The whole of Phillips' work main­tains an unwa­ver­ing focus on the apos­tle John's grand pur­pose of lead­ing his read­ers to believe that 'Jesus is the Christ, the Son of God' — so that each expo­si­tion is gospel-rich. . . . The fact that these expo­si­tions have been deliv­ered in the liv­ing con­text of the church gives them a depth and piquancy that many of the stan­dard com­men­taries lack. Those who preach the Word will also find these vol­umes full of fresh insights and homilet­i­cal inspi­ra­tion – good friends indeed."
- R. Kent Hughes, Senior Pas­tor Emer­i­tus, Col­lege Church, Wheaton, Illinois
"Although com­men­taries on the Gospel of John abound, far too few of them com­bine care­ful schol­ar­ship, deep the­o­log­i­cal reflec­tion, and a pas­toral heart.  Thank­fully, this com­men­tary by Rick Phillips is one of those few.  Clearly born out of many years of preach­ing and teach­ing, this com­men­tary is a must-read for modern-day pas­tors who not only want to under­stand the text but also want to apply it to the lives of those in their congregation."
- Michael J. Kruger, Pres­i­dent and Pro­fes­sor of New Tes­ta­ment, Reformed The­o­log­i­cal Sem­i­nary, Char­lotte, North Carolina
About the Author:
Richard D. Phillips (MDiv, West­min­ster The­o­log­i­cal Sem­i­nary) is the senior min­is­ter of Sec­ond Pres­by­ter­ian Church of Greenville, South Car­olina. He is a coun­cil mem­ber of the Alliance of Con­fess­ing Evan­gel­i­cals, chair­man of the Philadel­phia Con­fer­ence on Reformed The­ol­ogy, and coed­i­tor of the Reformed Expos­i­tory Com­men­tary series.
Reformed Expository Commentary Series:
_________________________________________________________________________________
Our mis­sion is to serve Christ and his church by pro­duc­ing clear, engag­ing, fresh, and insight­ful appli­ca­tions of Reformed theology.
_________________________________________________________________________________