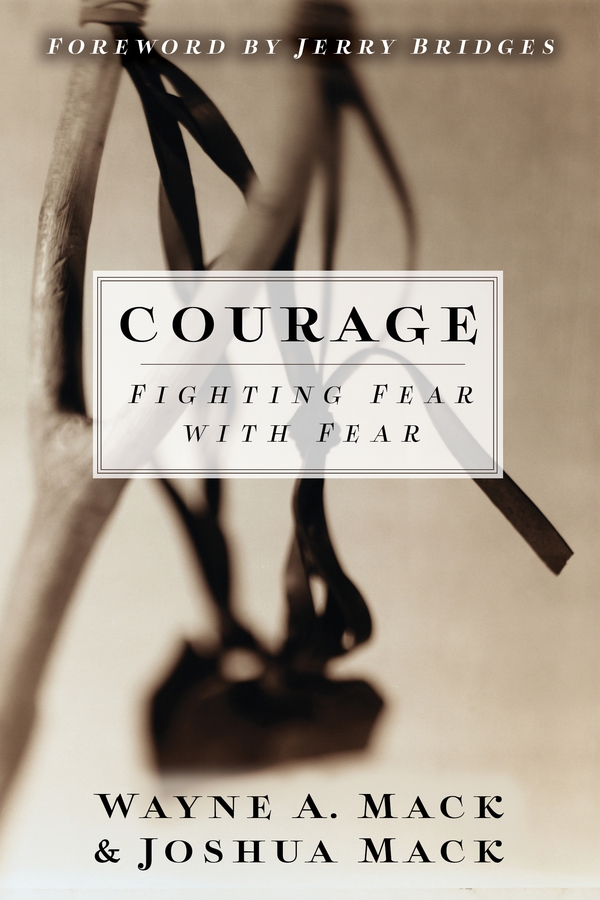 Courage: Fight­ing Fear with Fear, 2nd Edi­tion by Wayne A. Mack and Joshua Mack
Pages: 304

Price: $16.99

Paper­back
Sum­mary: Fear is so much a part of the human expe­ri­ence that we may thing there's no escape. Our own earthly solu­tions fall short, but God has offered us a bet­ter rem­edy: a spirit of "power and love and dis­ci­pline" (2 Tim. 1:7 NASB) that can over­come fear of oth­ers, irra­tional fear, and sin­ful fear. Through short lessons and dis­cus­sion ques­tions, Wayne and Joshua Mack show how we can find true courage by fear­ing God and trust­ing in him alone. This book can be used for indi­vid­ual growth and devel­op­ment, for group study, or for home­work assign­ments for those in counseling.
About the Authors:
Wayne Mack is the author of the best-selling books Strength­en­ing Your Mar­riage and Prepar­ing for Mar­riage God's Way. He lives in Pre­to­ria, South Africa, where he teaches bib­li­cal coun­sel­ing to pas­tors at Strength­en­ing Min­istries Train­ing Insti­tute. He also spends about six weeks each year teach­ing in the USA.
Joshua Mack (MDiv, The Master's Sem­i­nary; DMin, The South­ern Bap­tist The­o­log­i­cal Sem­i­nary) is pastor-teacher of Liv­ing Hope Church in Pre­to­ria, South Africa, and Exec­u­tive Direc­tor of Hope Min­istries International.
What Others Are Saying About This Book:
"If you are one of those pro­fess­ing Chris­tians whose most sig­nif­i­cant strug­gle is fear, you've now found in this book a trea­sure trove of bib­li­cal teach­ing that can won­der­fully lib­er­ate you." —Lance Quinn, Pas­tor, Grace Advance at Grace Com­mu­nity Church, Sun Val­ley, California
"Courage tops the list of books that I reg­u­larly rec­om­mend for dis­ci­ple­ship and coun­sel­ing. There are few books writ­ten that are as help­ful a resource to nearly every coun­se­lee that walks through my door." —John Street, Pro­fes­sor and Chair of Bib­li­cal Coun­sel­ing, The Master's Col­lege & Seminary
"The Macks' work stands out among a num­ber of good resources on the sub­ject. I would encour­age you to use it first to bless your own life and then to use it to bless the lives of every­one you know who might expe­ri­ence the emo­tion of fear (wouldn't that be all of us?)." —Amy Baker, Coun­selor, Faith Bib­li­cal Coun­sel­ing Ministries
_________________________________________________________________________________
Like us on Face­book: P&R Pub­lish­ing
Fol­low us on Twit­ter: @prpbooks
_________________________________________________________________________________