Keep­ing Your Cool: A Teen's Sur­vival Guide by Lou Pri­olo
256 pages | $12.99 | Paper­back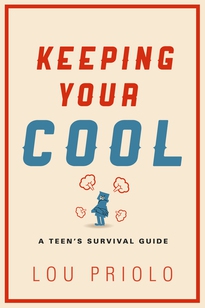 Sum­mary: If you are a teenager, you prob­a­bly know plenty about issues like argu­ing with your par­ents, rebelling against author­ity, and atti­tude problems—either first­hand or because every­one expects you to be like that! But what if you knew that these things actu­ally spring from a prob­lem with anger; that they're the result of being a sin­ner, not a teenager; and that you can have more con­trol over them than peo­ple think you can?
Bib­li­cal coun­selor Lou Pri­olo pro­vides a prac­ti­cal, under­stand­able, and bib­li­cal approach to mas­ter­ing sin­ful anger and its causes and effects. He helps you to assess your level of anger and what form it takes, to iden­tify some of the heart issues that lead to anger (and how to replace them with bib­li­cal atti­tudes,) and to have open com­mu­ni­ca­tion with your par­ents with­out the dis­trac­tions that cause argu­ments. Prac­ti­cal tools, such as jour­nal­ing exer­cises and dis­cus­sion points to talk over with your par­ents, help you to take mea­sur­able steps toward "keep­ing your cool."
About the Author:
Lou Pri­olo is a Fel­low of the Asso­ci­a­tion of Cer­ti­fied Bib­li­cal Coun­selors and an instruc­tor with Birm­ing­ham The­o­log­i­cal Sem­i­nary. He has been the Direc­tor of Bib­li­cal Coun­sel­ing at East­wood Pres­by­ter­ian Church since 1998.
What Others Are Saying About This Book:
"Refresh­ingly and doggedly bib­li­cal. With a thor­oughly gospel-centered approach, [Lou] helps young peo­ple to con­front sin head on and move toward find­ing both grace and change by the power of God's Word and Spirit, while remain­ing intensely prac­ti­cal and con­crete." - JON NIELSON, col­lege pas­tor, col­lege church, Wheaton, Illinois
"Being a teenager is hard. Finally help is avail­able! Lou Pri­olo shows what teenage anger is and where it comes from. Open these pages and you will find hope, encour­age­ment, and the Sav­ior." — RICK HOLLAND, cofounder of the Resolved and Anchored Youth Conferences
_________________________________________________________________________________
Our mis­sion is to serve Christ and his church by pro­duc­ing clear, engag­ing, fresh, and insight­ful appli­ca­tions of Reformed theology.
_________________________________________________________________________________