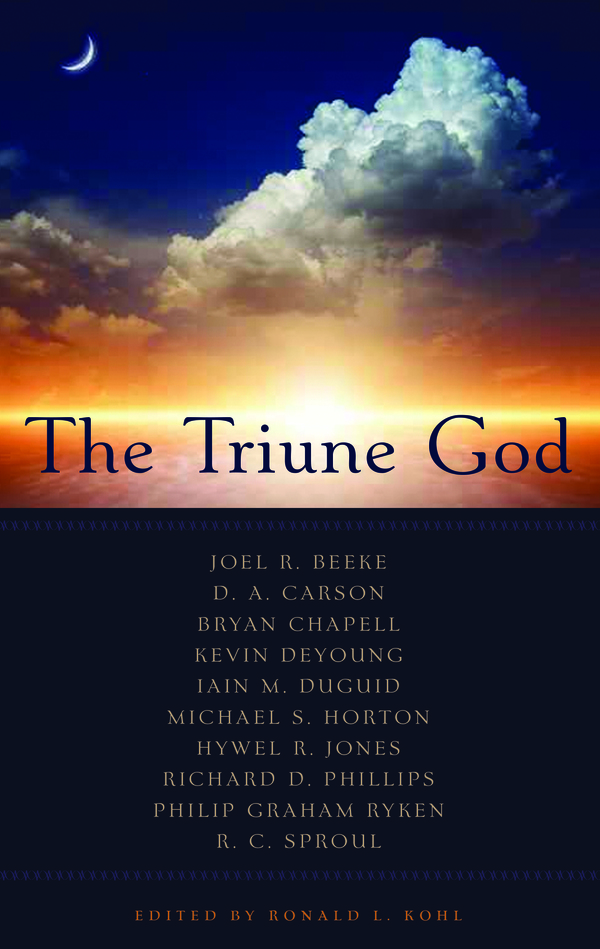 The Tri­une God edited by Ronald L. Kohl
Pages: 352

Price: $14.99

Paper­back
Sum­mary: While the work­ings of the Trin­ity chal­lenge our under­stand­ing, Bible-believing Chris­tians can­not let them­selves down­play the Trin­ity or ignore it. We find the Father, Son, and Holy Spirit each present through­out the pages of Scripture—and each equally deserv­ing of our love and reverence.
This book, while not attempt­ing to define or explain the Trin­ity, ded­i­cates equal space to exam­in­ing the qual­i­ties and roles of each mem­ber as we find them in the Bible, to help us grow in our knowl­edge and under­stand­ing. To do so, the Alliance of Con­fess­ing Evan­gel­i­cals has gath­ered essays from lead­ing pas­tors and preach­ers on:
GOD THE FATHER
Bryan Chapell                    The Great­ness of God • The Love of God
Richard D. Phillips             The Holi­ness of God • The Wrath of God
Kevin DeY­oung                  The Truth of God
GOD THE SON
D. A. Car­son                      The Glory of the Son • Our Risen Savior
Joel R. Beeke                   The Incar­nate Word • The Cross of Christ
Iain M. Duguid                   The Life and Min­istry of Jesus
GOD THE HOLY SPIRIT
D. A. Car­son                      Streams of Liv­ing Water
Michael S. Hor­ton              The Age of the Spirit
Philip Gra­ham Ryken         Born of the Spirit
Hywel Jones                      Life in the Spirit
R. C. Sproul                       Holy Spirit, Counselor
These addresses will make us more famil­iar with each per­son of the Trin­ity and will show us how to rightly respond to each one. The more we know how to relate to the Trin­ity, the more we can enrich our love for our tri­une God.
About the Editor:
RONALD L. KOHL is the senior pas­tor of Grace Bible Fel­low­ship Church in Quak­er­town, Penn­syl­va­nia, and he orga­nizes the annual Quak­er­town Con­fer­ence on Reformed The­ol­ogy. Prior to that, Ron was a youth pas­tor and a sports jour­nal­ist. He still writes sports reports for his local newspaper.
_________________________________________________________________________________
Like us on Face­book: P&R Pub­lish­ing
Fol­low us on Twit­ter: @prpbooks
_________________________________________________________________________________