On the Brink: Grace for the Burned-Out Pas­tor by Clay Werner
Pages: 144 | $12.99 | Paperback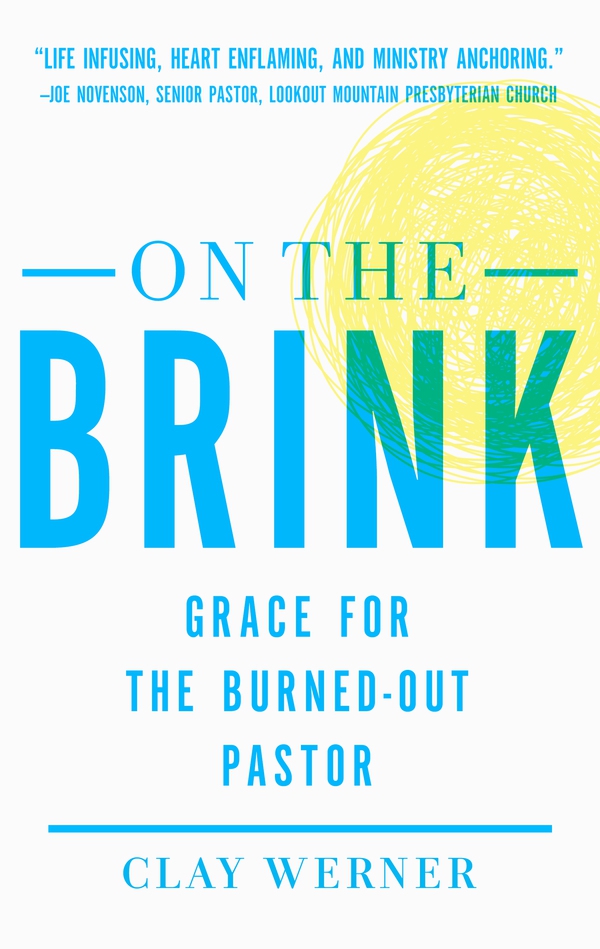 Sum­mary: As we learn from Christ's cru­ci­fix­ion, any deci­sion to sac­ri­fi­cially love sin­ners is going to hurt—really hurt. And our own sin makes things even messier. Pas­tors and church lead­ers know both sides of this well. In fact, many pas­tors leave the min­istry after only five years, and one study found that 1,400 pas­tors leave the min­istry each month "due to stress, dis­il­lu­sion­ment, or forced termination."
Why is this? Min­istry has many unique chal­lenges. When the pain, frus­tra­tion, and exhaus­tion of min­istry build up in a pastor's heart, it's easy for him to lose sight of the incred­i­ble gifts given to him in Jesus Christ: hope and res­ur­rec­tion power that will strengthen him to carry on. Acknowl­edg­ing the unique chal­lenges of min­istry, Pas­tor Clay Werner helps us reopen our eyes to the gospel's soul-sustaining and heart-renewing com­fort for church leaders.
About the Author: 
CLAY WERNER (MDIV, WESTMINSTER SEMINARY CALIFORNIA) is senior pas­tor at Lex­ing­ton Pres­by­ter­ian Church (PCA) in Lex­ing­ton, South Car­olina, where he lives with his wife, Liz, and their five children.
What Others Are Saying About this Book:
"Life infus­ing, heart enflam­ing, and min­istry anchor­ing." - Joe Noven­son, Senior Pas­tor, Look­out Moun­tain Pres­by­ter­ian Church
"Real­is­tic, gospel-grounded, grace-saturated encour­age­ment for embat­tled and weary pas­tors. . . . The anti­dote to the temp­ta­tion to drop out of the shepherd's costly call­ing is not renewal of our own teeth-gritted res­o­lu­tion, but a fuller view of the panorama of Jesus and his costly love for me." - Den­nis E. John­son, PhD, Pro­fes­sor of Prac­ti­cal The­ol­ogy, West­min­ster Sem­i­nary California
"I com­mend this won­der­ful book to the many wounded war­riors in Gospel min­istry I meet every day—clergy and laity." - Michael A. Mil­ton, PhD, Fourth Pres­i­dent & Chan­cel­lor, Reformed The­o­log­i­cal Seminary
"A pow­er­ful real­ity check for those just enter­ing the min­istry as well as a valu­able source of encour­age­ment to those who are strug­gling in the trenches after many years of ser­vice." - Iain M. Duguid, Pro­fes­sor of Old Testament, Westminster The­o­log­i­cal Sem­i­nary, Philadelphia
_________________________________________________________________________________
Our mis­sion is to serve Christ and his church by pro­duc­ing clear, engag­ing, fresh, and insight­ful appli­ca­tions of Reformed theology.
_________________________________________________________________________________