This week's author inter­view is with Zack Eswine, author of Recov­er­ing Eden: The Gospel Accord­ing to Eccle­si­astes. This is the 15th and most recent book in our Gospel Accord­ing to the Old Tes­ta­ment series.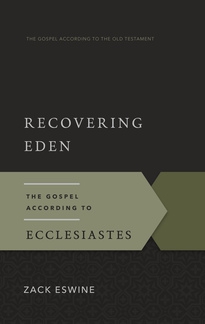 Ques­tion #1 — Tell us a lit­tle bit about yourself
I was born and raised in South­ern Indi­ana. Hen­ryville is my child­hood home­town. But I've spent a great deal of time in "the Knobs" too. Now, I'm a pas­tor. With my fam­ily, I work and rest in Web­ster Groves, Missouri.
Ques­tion #2 — Did you always enjoy writing?
When I was younger I enjoyed the thought of writ­ing but not the work of it. I liked the sounds of words and I liked to con­nect them. I imag­ined with ambi­tion the enjoy­ment of hav­ing my own books that peo­ple read. But a funny thing hap­pens. When your first book releases, you still have to take out the trash or brush your teeth or buckle beneath a pain that undoes you that day. So, I sup­pose over time "enjoy­ment" in writ­ing has changed its qual­ity. I sup­pose I've had to learn the hard work war­ranted by the craft. Per­haps my early enjoy­ment more resem­bled the delight of tast­ing an apple-flavored candy. The candy col­ors the tongue green for a moment. We look in the mir­ror or make faces at friends. But now "enjoy­ment" in writ­ing feels more like bone and ache. The stiff back and body soak of sweat from dig­ging dirt with­out shade until finally the sun decides to back off. Evening breeze and cool water whis­per and wait until finally we get to ease deep into our favorite chair next to our favorite peo­ple and hear those invit­ing words. "Din­ner is ready. "
Ques­tion #3 — What inspired you to write this book?
Two rea­sons. Per­son­ally, I find great help and com­fort from the book of Eccle­si­astes. Pas­torally, I have found that Chris­tians unfa­mil­iar with this book are sorely dis­ad­van­taged in the way they try to approach God and to do life as a Chris­t­ian. I have also found that those who aren't Chris­tians can find gen­uine help in this book.
Ques­tion #4 — Do you have a spe­cific spot and/or time that you enjoy writ­ing the most?
As a pas­tor and as a fam­ily man, I have to fol­low the sea­sons and find my times within them. Some­times this means I'm writ­ing late at night, or within a nook of after­noon. I rarely write early in the morn­ing, though I can if I need to. My favorite spot is out­side, near some trees, next to some kind of water, like a pond or lake. But on most occa­sions I'm in my upstairs hall­way next to a win­dow at a desk.
Ques­tion #5 — How do you deal with writer's block?
Every­one is dif­fer­ent on this of course. For me, I've tried the wis­dom that says, "push through and write any­thing, don't edit it, and see what you dis­cover." Some­times I do this. But more often than not, I'm real­iz­ing that I need to stop. Get up, go for a walk in my lit­tle upstairs hall­way or step out­side, feel the wind, walk around the neigh­bor­hood or even take a shower. Often thoughts begin to flow again. If they don't, I'm learn­ing to assume that I'm not ready to write that sec­tion. It isn't well enough formed or under­stood within me yet. I have to sur­ren­der to the fact that I need to live a bit more of life than I want to in order to write about this sub­ject that stalls me. Until then, I will move on to a dif­fer­ent sub­ject or idea. I try to ride what­ever wave will let me catch hold for as long is it will take me. Even if it isn't the wave I wanted to ride that day.
Ques­tion #6 — Which Writ­ers Inspire You?
Dif­fer­ent writ­ers for dif­fer­ent rea­sons dur­ing dif­fer­ent sea­sons of my life. Wen­dell Berry, Kath­leen Nor­ris, Don­ald Hall, Czes­law Milosz, and Mary Oliver have put places into poetry. Mar­i­lynne Robin­son has done this also with her nov­els. Eugene Peter­son has done the same for me in terms of think­ing about pas­toral min­istry with a local peo­ple and place. Pastor/Poet/Novelists like Georges Bernanos or Ger­ard Man­ley Hop­kins inspire me as a pas­tor who writes. Fran­cis Scha­ef­fer and Jer­ram Barrs help me think about the world. John Calvin, Mar­tyn Lloyd Jones, and Charles Spur­geon teach me prayer and Spirit depen­dence upon God. Leighton Ford helps me pay atten­tion to Christ moment by moment.
_______________________________________________________________________________
Want to learn more about Zack Eswine?
Read his blog: http://preachingbarefoot.com/
Visit his web­site: http://www.zackeswine.com/
_______________________________________________________________________________