For our 30th author inter­view posted on our blog, we inter­viewed Sally Michael, author of God's Names, God's Promise, God's Prov­i­dence, God's Wis­dom, and upcom­ing titles: Jesus Is Most Spe­cial (avail­able Sep­tem­ber 22), and God's Bat­tle (avail­able Octo­ber 27).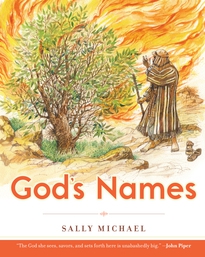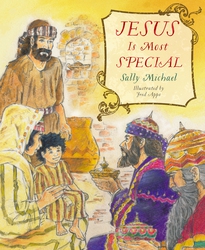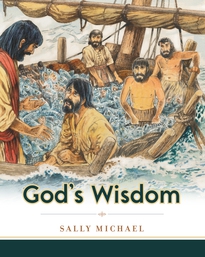 Ques­tion #1 — Tell us a lit­tle bit about your­self: where you're from, fam­ily, job, per­sonal inter­ests, unique hob­bies, what do you do in your spare time, etc.
Answer­ing where I am from has always been a dif­fi­cult ques­tion. My father was in the US Navy so we moved quite a bit when I was young—however most of my grow­ing up years were spent in Vir­ginia, Rhode Island, and Ecuador, South America.
I met my hus­band, David, in col­lege. Our older sis­ters were room­mates and think they were respon­si­ble for our rela­tion­ship. But actu­ally, God in His prov­i­dence gets the credit for this match! After our wed­ding, we moved to Min­nesota so David could attend Bethel Sem­i­nary… and for­got to leave until 38 years later. I guess that make up for the many moves dur­ing my younger years! We recently moved to Indi­ana where my hus­band is a pas­tor (children/youth/family) at Col­lege Park Church after serv­ing at Beth­le­hem Bap­tist Church for 27 years. We have two daugh­ters, Amy, who is mar­ried to Gary and has three lovely chil­dren; and Kristi who is a nurse midwife.
I can't say that I have "unique" hob­bies but I do enjoy handcrafts—mostly cross stitch embroi­dery, quilt­ing, and sewing. Of course, I love to read. When I was grow­ing up, a Fri­day night treat was that we could read in bed as long as we could stay awake! (Among other books, that meant I read most of the Nancy Drew and Hardy Boys books!) I also enjoy play­ing games—it is a great bond­ing activ­ity for fam­ily and friends.
Ques­tion #2 — Which writ­ers inspire you?
Hmmm, this will sound strange, but I am inspired by Dr. Seuss. I love the cre­ativ­ity in his books. So many children's books tap the imag­i­na­tion, such as A House is a House for Me by Mary Ann Hober­man. I also love The Rel­a­tives Came by Cyn­thia Rylant because of the cre­ative way in which she describes ordi­nary life and fam­ily love. How could the imag­i­na­tion not be stretched by read­ing the Bor­row­ers series by Mary Nor­ton? The bor­row­ers are lit­tle peo­ple liv­ing in the walls and floor­boards of the houses of big peo­ple. They sur­vive by bor­row­ing from the "human beans." Their "bor­row­ings" of postage stamps for pic­tures, glove fin­gers refash­ioned into pants, and match box dressers is a delight­ful use of imag­i­na­tion all clev­erly recorded through rich vocab­u­lary. These enchant­ing children's books are a sheer delight as I find cre­ativ­ity and imag­i­na­tion an inspir­ing reflec­tion of our Cre­ator God.
Ques­tion #3 — Did you always enjoy writing?
This will sound strange, but I really don't enjoy writ­ing. I am a teacher at heart and most specif­i­cally a Bible teacher. I have a pas­sion that chil­dren know Jesus and His Word…and writ­ing is just the medium in which I can dupli­cate my teach­ing and reach a wider audi­ence of children.
Ques­tion #4 — Do you have a favorite author? Who is it and why?
I couldn't pos­si­bly pick a "favorite" author so I will just men­tion one author I have found very help­ful for encour­ag­ing me to see the big­ness of God and to grow as a Chris­t­ian– Jerry Bridges. Two of my favorite books of his are Trust­ing God: Even When Life Hurts and The Joy of Fear­ing God. I find his books the­o­log­i­cally sound and very prac­ti­cal. His love for God is obvi­ous and some­what contagious.
Ques­tion #5 — How do you deal with writer's block?
This may sound obvi­ous, but I pray. I remind God that He has end­less cre­ativ­ity and never runs out of ideas and I ask Him to give me an idea. He is always faithful…though not always quick!