This week's author inter­view is with Dan Bar­ber, co-author with Robert A. Peter­son of the book, Life Ever­last­ing: The Unfold­ing Story of Heaven. This book is part of our Explo­rations in Bib­li­cal The­ol­ogy series.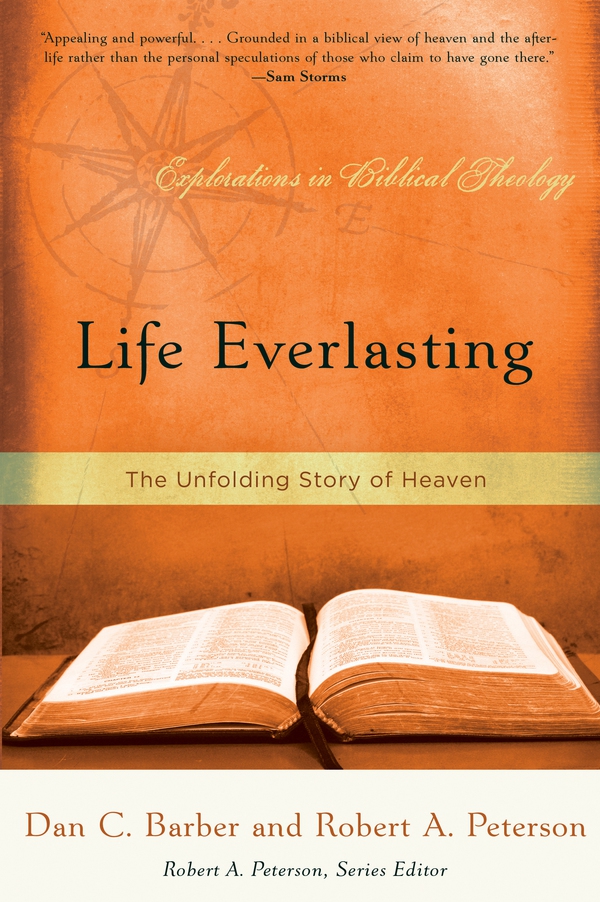 Ques­tion # 1 — Tell us a lit­tle bit about your­self: where you're from, fam­ily, job, per­sonal inter­ests, unique hob­bies, what do you do in your spare time, etc.
My day job is as a Solu­tions Archi­tect for com­mer­cial data cen­ters. Per­haps of most inter­est to read­ers, I am a Rul­ing Elder in the Pres­by­ter­ian Church in Amer­ica (PCA).
Ques­tion #2 — Did you always enjoy writing?
Yes, but I really needed the stud­ied hand of Robert Peter­son to guide me and develop me. But yes, I have always loved it, and always wanted to write a book.
Ques­tion #3 — What inspired you to write this book, about this topic?
My sis­ter died when she was four days old; I was two and a half at the time. Ever since then I have had ques­tions about her and about heaven; I start­ing read­ing Rev­e­la­tion and Ezekiel and books like this very young. I was incred­i­bly intrigued with the imagery.
Ques­tion #4 — Do you have a spe­cific spot that you enjoy writ­ing most?
I have to write at my desk. I need my ref­er­ence books.
Ques­tion #5 — What book are you read­ing now?
Lead­ing with Ques­tions, by Michael Marquardtt
Ques­tion #6 — Do you have a favorite author? Who is it and why?
I really like Tim Keller and C.S. Lewis. They both chal­lenge me in many ways. In terms of fic­tion, J.K. Rowl­ing is a phe­nom­e­nal writer.
Ques­tion #7 — Do you have a favorite movie?
I have many, but one of my all-time favorites is We Were Soldiers.
Ques­tion #8 — What advice would you give to aspir­ing writers?
Out­lin­ing is key to good content. Perseverance is the key to actu­ally get­ting pub­lished. I can't tell you how many times I thought it was just too hard and too long a process.
Ques­tion #9 — Do you have an inter­est­ing writ­ing quirk?
I still pre­fer proofing/editing on paper with a red pen.
Ques­tion #10 — At what time of day do you write most?
I write most in the evenings; I am much sharper at night, not very much a morn­ing person.
Ques­tion #11 — Favorite sport to watch? Why? Favorite sport's team?
I root for the Car­di­nals in base­ball, Bron­cos in foot­ball, UGA Bull­dogs in col­lege, Phil Mick­el­son in golf, and Rafael Nadal in tennis—they are my faves, I think.
Ques­tion #12 — Favorite food?
Spaghetti
Ques­tion #13 — Favorite fla­vor of ice cream?
But­terfin­ger
Ques­tion #14 — Favorite ani­mal? Why?
Dogs, because you can play with them so much.
Ques­tion #15 — Lord of the Rings or The Chron­i­cles of Nar­nia? Why?
LOTR by far. So immer­sive. I iden­tify with the char­ac­ters much more.
Ques­tion #16 — What famous per­son (liv­ing or dead) would you like to meet and why?
Jesus—not a cliché, I really just want to see him face-to-face! Oth­er­wise, Luke; he is a detail-oriented guy like me, and I think I would like him a lot.
Ques­tion #17 — If you have a favorite book of the Bible, what is it and why?
My favorite book is Rev­e­la­tion, just because it is so encour­ag­ing and so hope­ful that all wrongs will be righted and made new!