God the Real Super­power: Rethink­ing Our Role in Mis­sions by J. Nel­son Jennings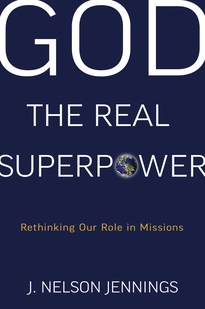 288 pages | $21.99 | Paper­back | Pub­lished: 2007
To read the table of con­tents, click HERE
To read a sam­ple chap­ter, click HERE
Sum­mary: Chris­tians in the United States face com­plex domes­tic and inter­na­tional chal­lenges. We face our own afflu­ence, religious-nationalism, and indi­vid­u­al­ism. God the Real Super­power ana­lyzes our mul­ti­fac­eted assump­tions about mis­sions, sug­gest­ing con­struc­tive per­spec­tives about God, oth­ers, and ourselves.
About the Author:
J. Nel­son Jen­nings is asso­ciate direc­tor of the Over­seas Min­istries Study Cen­ter in New Haven, Con­necti­cut, as well as asso­ciate edi­tor of the Inter­na­tional Bul­letin of Mis­sion­ary Research. He received his MDiv from Covenant Sem­i­nary and his PhD from the Cen­tre for the Study of Chris­tian­ity in the Non-Western World at the Uni­ver­sity of Edinburgh.
What Others Say About This Book:
"For North Amer­i­cans to par­tic­i­pate in God's mis­sion for the twenty-first cen­tury, we must learn not only to see the world as Christ does but to see our­selves as Christ and the world see us. Shar­ing Christ's sight requires that we share his heart—a heart formed out of humil­ity, com­pas­sion, and suf­fer­ing. Nel­son Jen­nings explores these themes with pas­sion, with hope and, most of all, with a pro­found love for the Gospel of the Lord Jesus. The themes are stretch­ing, trans­form­ing, and ulti­mately empow­er­ing for the new work of God's mis­sion." - Bryan Chapell, pres­i­dent, Covenant The­o­log­i­cal Seminary
"Some­one once said, 'I know two things: there is a God, and I am not him.' Dr. Jen­nings has done a won­der­ful job of remind­ing us that mis­sions belongs to God. He is the Redeemer and he is allow­ing us to be part of it. But it is his work and not ours. We as Amer­i­cans are a 'can-do' peo­ple, and we have accom­plished many things because of it. But one does not have to be involved in mis­sions very long to real­ize that when it comes to redeem­ing the world, we 'can't do,' and that is okay. We can relax in the thought that he is in charge and that because of that, mis­sions will not fail." — John Rollo, inter­na­tional direc­tor for Sub-Saharan Africa, Mis­sion to the World
_________________________________________________________________________________
Our mis­sion is to serve Christ and his church by pro­duc­ing clear, engag­ing, fresh, and insight­ful appli­ca­tions of Reformed theology.
_________________________________________________________________________________