Get to know Aimee Byrd, author of House­wife The­olo­gian, in this week's author interview.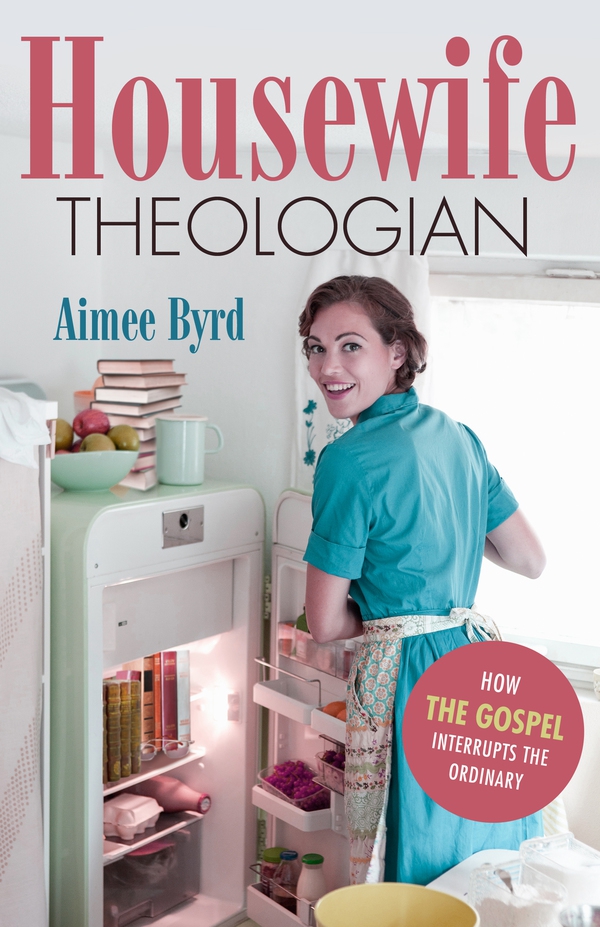 Tell us a lit­tle bit about your­self: where you're from, fam­ily, job, per­sonal inter­ests, unique hob­bies, what do you do in your spare time, etc.
"Basi­cally, I'm a West Vir­gin­ian, house­wife the­olo­gian who uses writ­ing as an out­let to keep an eter­nal per­spec­tive on all the crazi­ness in life. My hus­band, Matt, and I will be mar­ried 17 years this sum­mer. This year, our old­est daugh­ter entered high school, our sec­ond daugh­ter entered mid­dle school, and our son is now in third grade—yikes! I'm from Fred­er­ick, MD, which is still a short drive from where I live now. Hobby-wise, I have dab­bled in many things: ceram­ics, cof­fee snob­bery, and can­dle mak­ing, to name a few. But these days, I've been spend­ing time learn­ing nun­chaku, read­ing, fit­ting in a work­out of some sort, read­ing, and mak­ing home­made hum­mus and peanut but­ter in my new Ninja Pro. Although, it seems like I'm dri­ving a kid some­where most of the day…"
When did you first want to write a book?
"I love to read books on the­ol­ogy. I have also been involved in teach­ing women's Bible stud­ies. I do like to write, but I have to say that I never aspired to be an author or pro­fes­sional writer—until one day, I had a book in my head. I guess you could say that all my read­ing and teach­ing led to a deeper pas­sion to moti­vate women about the impor­tance of being good the­olo­gians. I want women to see how their the­ol­ogy shapes their every­day, ordi­nary lives, and I wanted to facil­i­tate that with a good tool for dis­ci­ple­ship. When I fin­ished writ­ing the book, I real­ized how much I like to write. When I began blog­ging, I dis­cov­ered a whole com­mu­nity of peo­ple who share my pas­sions, both men and women. Now it seems I am always con­coct­ing some­thing to write about, con­stantly spin­ning metaphors in my head all day."
Do you have a spe­cific spot that you enjoy writ­ing most?
"Sure, on a deck over­look­ing the beach, or in the moun­tains. But, turns out that isn't very plau­si­ble for a house­wife with three kids, so I set­tle for the desk in my bed­room, at the bar in my kitchen, or, if the weather's right and the glare isn't hor­ri­ble, on my porch. And then there are those times when the muse is rolling and all I have avail­able is the notes app on my phone… But I am also not too proud to write on nap­kins, receipts, or my hand if I have to."
What book are you read­ing now?
"I just fin­ished Mark Jones's Antin­o­mi­an­ism, and am now about a third of the way into G. K. Beale's The Tem­ple and the Church's Mis­sion. I've wanted to read this one ever since I heard an MP3 audio of him talk­ing about it."
How do you deal with writer's block?
"Oh, let's see, I usu­ally start with a snack and increase my cof­fee intake. If that doesn't work, I pick up a jump rope or my nunchucks and try to get my blood flow­ing. I often drum up some good writ­ing ideas when I'm rollerblad­ing or work­ing out. If I've still got noth­ing, I move on to call­ing a friend. A good con­ver­sa­tion can usu­ally get my brain mov­ing well again. And, I find that if I am read­ing well, I fre­quently write bet­ter. But some­times I just have to walk away and wait. It's easy to dis­tract myself by cruis­ing the blogs, and social net­works when I am unpro­duc­tive, but I find that typ­i­cally makes the prob­lem worse. These times are frus­trat­ing, but I think that it serves me well to develop that hunger to write while simul­ta­ne­ously rec­og­niz­ing that it is all a gift that can be taken away. It makes me thank­ful when I get the flow back that God has allowed me this voca­tion. And yet, it puts things in per­spec­tive that I am to be a good stew­ard of it and not place my worth and my value in the writ­ing itself."
If you have a favorite book of the Bible, what is it and why?
"While I do not have a favorite book of the Bible (it is dif­fi­cult for me to pick a favorite any­thing), I have been spend­ing a lot of time in the book of Hebrews in the last year and a half. I taught it for a year to our church's weekly women's Bible study, and that led me to write a book about the­o­log­i­cal fit­ness (not just for women!). But when I was through teach­ing, and after I wrote the man­u­script for my book, I real­ized that I wasn't fin­ished with Hebrews. Cur­rently, I am going through Richard Phillips' Reformed Expos­i­tory Com­men­tary Hebrews, and I have read some other excel­lent books that have been enrich­ing to my study. I also have a height­ened inter­est in Luke 24, about the Emmaus encounter. The sermon-letter to the Hebrews seems to me to be just the sort of thing Jesus would have been explain­ing to the two dis­ci­ples on their walk. It's inter­est­ing how my study of Hebrews has inter­sected with the read­ing I have been doing on Emmaus."
=======================================================================
Read Aimee Byrd's blog: http://www.housewifetheologian.com/
Fol­low her on Twit­ter: @aimeebyrdhwt
Watch a short video of Aimee Byrd talk about her book House­wife The­olo­gian by click­ing HERE.
=======================================================================